Addition of coins to the top of the bob in a single stack
We may tire of trying to regulate the period of the pendulum by raising or lowering the bob – if, for example, the threads are not fine enough – we might try dropping a few coins on top of the bob.  This is a technique used effectively on the pendulum of the great clock in the tower at the Houses of Parliament in London.  That four-second period pendulum is subject to all manner of environmental conditions which can alter the period.  A single pre-decimal British pence coin placed on the shoulder of the bob's mounting bracket (about one meter above the system center-of-mass) purportedly will alter the period by two-fifths of a second in 24 hours. 
The equation for the period of an ideal pendulum does not include any variable for mass; this means that the mass of the bob does not determine the period of the pendulum.  Adding mass in the form of coins to the top of the bob has the effect of shifting the location of its center-of-mass, and thus the length of the pendulum, and therefore its period.  Let us see how effective this technique is in regulating the time rate of the clock.  A maximum of twelve like-denomination coins are used in these experiments.
First of all, the center-of-mass of the bob is raised by adding coins to the top, not lowered; this increases the time rate, so in order for this method of regulation to be effective, the time rate must already be "slow".
Before the addition of any coins to the system, we have
<![if !word & !ppt & !excel & !vml]>

<![endif]>
<![if !word & !ppt & !excel & !vml]>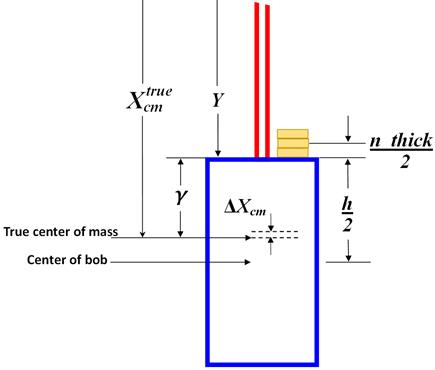 <![endif]>
where γ is the distance from the true center-of-mass to the top of the bob.  Solve for γ, and substitute in equation (3'), the true center-of-mass, which includes the small parts. 
<![if !word & !ppt & !excel & !vml]>

<![endif]>
<![if !word & !ppt & !excel & !vml]>

<![endif]>
Let n be the number of coins, each of thickness thick, stacked on top of the bob.  The center of this stack of n coins is a distance
<![if !word & !ppt & !excel & !vml]>

<![endif]>
above the top of the bob.  The magnitude, then, of the change-in-position of the center-of-mass, ΔXcm, relative to the true center-of-mass, is
<![if !word & !ppt & !excel & !vml]>

<![endif]>
where mc is the mass of a single coin.  In the denominator is an expression for the total mass; here we ignore the smaller constituent parts of the pendulum.  Recall that in general the period of a pendulum is given by
<![if !word & !ppt & !excel & !vml]>

<![endif]>
and that the period may be determined by experiment from the sonic detector parameter, B, which is the angular frequency of the sine function fit to the detector data.  We have
<![if !word & !ppt & !excel & !vml]>

<![endif]>
and
<![if !word & !ppt & !excel & !vml]>

<![endif]>
Now that the bob is heavily laden with coins, the effective length of the pendulum, l, is
<![if !word & !ppt & !excel & !vml]>

<![endif]>
where L0 = g/B02.  The period as a function of n, then, is
<![if !word & !ppt & !excel & !vml]>

<![endif]>

where the initial length, L0, i. e., the length with no coins present, has been written in terms of the sonic detector data rather the length measurements.

<![if !vml]>